INTRODUCTION
The Railways Recruitment Board(RRB) conducts the different exams to recruit candidates for various posts like- Junior Engineers, Assistant Loco Pilot (ALP), technician, Non-technical and popular category (NTPC), and another post under the Indian Railway Ministry.
ELIGIBILITY
A person applying for RRB JE should be a citizen of India. His age should be between 18-33 years.
There is an advantage of age relaxation for reserved class people where OBC has age relaxation of 3 years and ST/SC has an age relaxation of 5 years.
The person should hold a Bachelors degree in Engineering/Technology or 3 years Diploma in Engineering.
Category
RRB JE Age Limit
Minimum Age
Maximum Age
General
18 Years
33 Years
OBC
18 Years
36 Years
SC/ST
18 Years
38 Years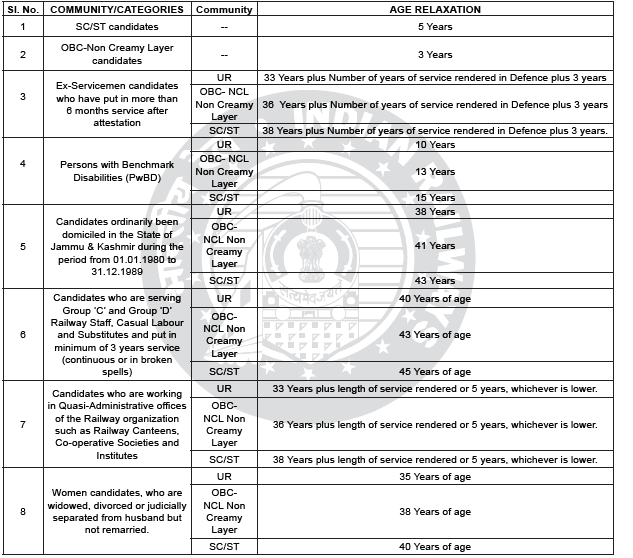 SELECTION PROCESS/EXAM PATTERN
In RRB JE entrance recruitment exam involves three stages-
The first stage computer-based test(CBT)- It is a 1 hour 30 mins exam comprises of 100 questions of 100 marks. In the first stage, the question will be asked from four sections viz.
Mathematics-30 marks, General Intelligence and Reasoning-25, General Awareness -15, General Science -30 marks.
The second stage computer-based test (CBT) – It is a 2 hours exam comprises of 150 questions of 150 marks. In this stage, questions will be asked from five sections viz.
General Awareness-15 marks, Physics and Chemistry -15 marks, Basics of Computer and Application-10 marks, Basics of Environmental and Pollution Control-10 marks, Technical Abilities-100 marks.
Questions from this section's technical abilities vary according to the technical cadre you are applying for.
Given below are basic requirement for the third stage-
The shortlisting of candidates for the third stage that is Document Verification and Medical Fitness Test shall be based on the normalized marks obtained by them in the second stage CBT.
Candidates called for document verification will have to pass a requisite medical fitness test conducted by the railway administration to ensure the candidates are medically fit to carry out the duties connected with the post opted by them.

It is very important to have complete knowledge of the syllabus of the exam you are appearing for.
Given below is the list of the subject-wise syllabus –
The subject wise syllabus for stage 1st of CBT is given below
SUBJECTS:-
MATHEMATICS
Number system
BODMAS
Decimals
Fractions
LCM and HCF
Ratio and Proportion
Percentage
Mensuration
Time and Work
Time and Distance
Simple and Compound Interest
Profit and Loss
Algebra
Geometry
Trigonometry
Elementary Statistics
Square Root
Age Calculations
Calendar and Clock
Pipes and Cistern
GENERAL INTELLIGENCE AND REASONING
Analogies
Alphabetical and Number Series
Coding and Decoding
Mathematical operations
Relationships
Syllogism
Jumbling
Venn Diagram
Data Interpretation and Sufficiency
Conclusions and Decision Making
Similarities and Differences
Analytical reasoning
Classification
Directions
Statement – Arguments and Assumptions etc.
GENERAL AWARENESS
Knowledge of current affairs
Indian geography
Culture and history of India including freedom struggles
Indian Polity and  Constitution
Indian Economy
Environmental issues concerning India and the World
Sports
General Scientific and technological developments etc.
GENERAL SCIENCE
Physics
Chemistry and Life Sciences (up to 10th Standard CBSE syllabus)
The subject wise syllabus of 2nd stage of CBT is given below-
GENERAL AWARENESS
Knowledge of current affairs
Indian geography
Culture and history of India including freedom struggles
Indian Polity and  Constitution
Indian Economy
Environmental issues concerning India and the World
Sports
General Scientific and technological developments etc.
PHYSICS AND CHEMISTRY
Up to 10th standard CBSE syllabus
BASICS OF COMPUTER AND APPLICATION
The architecture of Computers; input and Output devices; Storage devices
Networking
Operation System like Window, Unix, Linux, MS Office
Various data representation
Internet and Email
Websites and Web Browsers
Computer Virus
BASICS OF ENVIRONMENTAL AND POLLUTION CONTROL
Basics of Environment
The adverse effect of environmental pollution and control strategies
Air, Water and Noise pollution; their effect and control
Waste Management
Global Warming
Acid rain
Ozone depletion
TECHNICAL SYLLABUS(ABILITIES)
RRB JE CIVIL AND ALLIED ENGINEERING 
Engineering Mechanics
Building Construction and materials
Construction of substructure and superstructure
Building drawing, finishes, and maintenance
Concrete Technology
Surveying
Computer-Aided Design
Geo-Technical
Hydraulics
Irrigation Engineering
Mechanics of Structures
Theory of structures
Design of concrete structure
 Transportation Engineering
Design of steel structure
Highway Engineering
Environmental Engineering Advanced Construction Techniques and Equipment
Estimating and Costing
Contracts and Accounts
RRB JE ELECTRICAL AND ALLIED ENGINEERING 
Basic concepts
Circuit law
Magnetic Circuit
AC Fundamentals
Measurement and measuring instruments
Electrical Machines
Synchronous Machines
Generation, Transmission, and Distribution
Switchgear Utilization of Electrical Energy and Protection
Estimation and costing
Basic Electronics
RRB JE MECHANICAL AND ALLIED ENGINEERING 
Engineering Mechanics
Material Science
Strength of Materials
Machining
Welding
Grinding and Finishing Process
Metrology
Fluid Machinery
Hydraulic Machinery
Industrial Management
Thermal Engineering
RRB JE ELECTRONICS AND ALLIED ENGINEERING
Electronic Components and Materials
Electronic Devices and circuits
Digital Electronics
Linear Integrated Circuit
Microprocessor and Microcontroller
Electronic Measurements
Computer Programming
Basic Electrical Engineering
RRBs
There is 21 RRBs present all over India. The headquarters of the railway board is in New Delhi.
The list of RRBs is given below-
RRBs                               WEBSITES
VACANCY
Railway Recruitment offers job opportunities to talented and aspiring candidates by releasing a large number of vacancies.
The number of vacancies for RRB JE is 13034.
ONLINE APPLICATION
The application form for RRB JE is released online on http://rrbcdg.gov.in/.  every year.
Documents Required for Verification in RRB JE 2020-
Given below is the list of documents required during the document verification process for RRB JE 2019:
Two self-attested photocopies of all documents and the copies should be scanned copies in the true color.
Matriculation/ High School Certificate for DOB verification.
Category certificates for reserved candidates (SC/ST/OBC-NCL etc.)
NOC from the already serving employees
Self-declaration by Transgender candidates
J & K domicile certificate for candidates belonging to Jammu & Kashmir
Note: All the mentioned documents are checked to verify the eligibility of the candidate. They must be carried in Original hard copies.